How our advice process works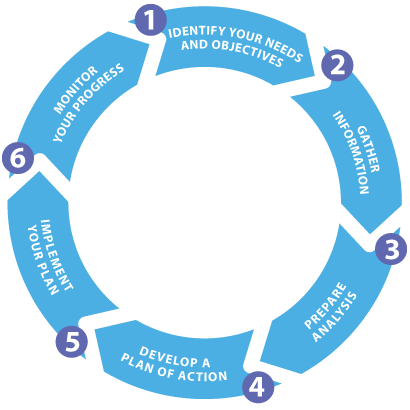 Step 1: Meet and greet - getting to know you
Our goal at the initial meeting is to find out about you. This include finding out what's important, what motivates you, what you want to achieve and what financial success looks like to you. Only once we know your true goals, motivations and values can we begin to help you reach them.
Step 2: Gather information
Once we establish your short, medium and long term goals, we will gather further information by completing a financial needs analysis which will allow us to determine your current situation. We will provide you an overview of how you can achieve your goals, outline the benefits and discuss how much this will cost.
Step 3: Analyse and assess
We will then review your current situation, consider your goals and design a plan tailored for you.
Step 4: Develop a plan - present our recommendations
We will present your financial plan in a Statement of Advice (SOA) to you and explain clearly how this relates to your goals and how they could be achieved.
Step 5: Implement your plan
If you agree to proceed with the advice provided, we will implement this for you. You will then begin your journey towards achieving your goals.
Step 6: Monitor your progress - ongoing review to keep you on track
We see financial advice as a journey and not a means to an end. Your priorities and circumstances in life are constantly changing and so our advice needs to be updated and changed accordingly. We review your original goals, values and objectives to make sure they are still relevant and make changes where required.
Our role is to provide the framework and the road map to success while also helping you to be accountable for implementing it correctly.